Safety - Reliability - Flexibility
Integrated Lifts For Conveyor Systems
Integrated Lifts For Conveyor Systems
RELIABLE INTEGRATED LIFTS FOR CONVEYOR SYSTEMS
The conveyor is a critical link in a company's ability to move its products in a timely fashion. Any disruption of its operation is therefore very costly. To avoid downtime, the solution must offer long-term operation at peak performance. This requires a high-quality lift and motor, regular inspection and service, easy access to key parts ex-stock, and proper training for personnel.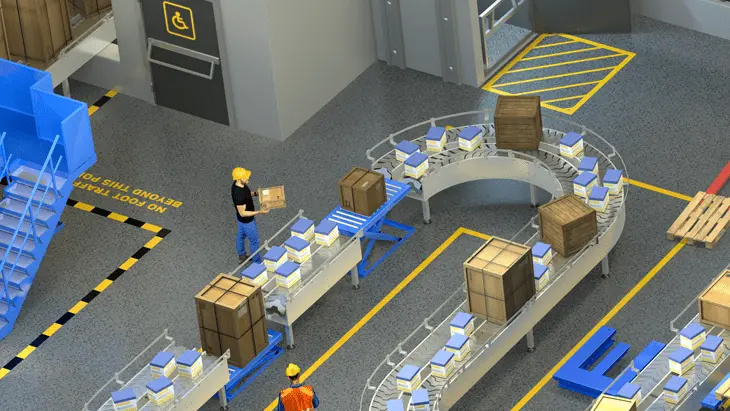 Almost every intralogistics conveyor system is different. Your configuration must be flexible, and you will need access to skilled engineers who can adapt the lift table and the controls and hydraulics precisely to your system. We are one of the few manufacturers able to meet these demands, with a wide range of single- and twin-scissors tables as well as our UXB products.
All these lift products are highly customizable for different capacities, strokes, sizes, etc. And easily adaptable to different conveyer systems, thanks to our customizable control and hydraulic systems. Our ergonomic solutions therefore offer OEMs and integrators:
Reliability for lines that must never stop
Safetyto protect operators and reduce costs
Flexibilitybacked by advanced engineering to fit any conveyor system
Cost-saving quality built in
Everything we put into our lifts for conveyor systems is geared to safe and reliable long-term operation in tough conditions. Our precision-machined scissors perform smoothly with high geometric accuracy, load after load. The compact hydraulic unit is designed for easy maintenance throughout a long service life, with many integrated safety features. And the electrical components are specified to at least IP 65.
We address physical safety with special frames that reduce the risk of entrapment and ensure compliance with applicable regulations. We also provide support legs to secure the equipment in a safe position during service and maintenance.
Meet regulatory requirements
Our products comply with all applicable regulations, including EN1570-1 or Machine Directive 2006/42/EC depending on the application. This ensures proper protection for your operators and those working near them.
Your guarantee of uninterrupted operation
When you buy our lifts for conveyor systems, you benefit from our responsive local presence, which ensures quick and trouble-free installation and service. And above all, you can be confident your solution comes from an industry leader whose experience and expertise are your guarantee of safe, smooth and uninterrupted operation. We back all this with our comprehensive 1-year warranty and a supportive service contract offer.
Product profile
Weight capacity: 500-3000 kg
Lifting height: 200-2500 mm
Platform LxW: 800×600-3000×1000 mm
Accessories
Wear strips to handle heavy use
Positioning sensors detect faults automatically and improve safety
Bellows provide extra safety, and protection against dust and dirt
Chain mesh protects against mechanical damage and reduces the risk of personal injury
Roller conveyors transport goods quickly and safely
Additional services
Training helps existing and new employees achieve top performance at minimum cost
Technical support finds the right solution for you, freeing up your resources
Installation directly to your line by a knowledgeable and experienced partner
Third-party approvals are available on demand to assure quality and safety
Contacts
John Cai
Country Manager-Greater China
---
Related Information
---
Integrated Lifts For Conveyor Systems
Single Scissor Tables,Twin Scissor Tables,Line Loading/Unloading,
All product categories
---
Here is the placeholder text
Integrated Lifts For Conveyor Systems
My lift will be operating in a really dusty environment. Will it cope?
For the most challenging environments, you can fit our lifts with bellows from our accessories range. They protect against dust and dirt, and give extra safety for operators. We have a wide range of accessories. Our experts can advise.
Integrated Lifts For Conveyor Systems
How do you ensure long-term reliable operation?
We use all our experience in our combination of rugged construction and high-quality lifts and motors. Our services include regular inspection and maintenance, along with full training for your personnel to ensure the equipment is used properly.
Integrated Lifts For Conveyor Systems
Do these products meet the tough safety regulations I face?
These solutions comply with all applicable regulations, including EN1570-1 or Machine Directive 2006/42/EC depending on your application.
Integrated Lifts For Conveyor Systems
How do I get a quotation for a conveyor lift?
You can use our straightforward online quotation request form, or simply contact your local representative.
Integrated Lifts For Conveyor Systems