Safety - Reliability - Flexibility
Working Platforms
HIGH-SAFETY ERGONOMIC WORKING PLATFORMS
An aging and increasingly overweight labor force is putting the focus on ergonomic workplaces incorporating safety and reliability. This is driving demand for innovative ergonomic working platforms that position operators quickly and accurately to enable them to work at the right level. In this area, every combination of operator, material, and equipment is different. A high level of customizing expertise is needed to meet safety regulations that are sure to get even tougher as the use of working platforms expands.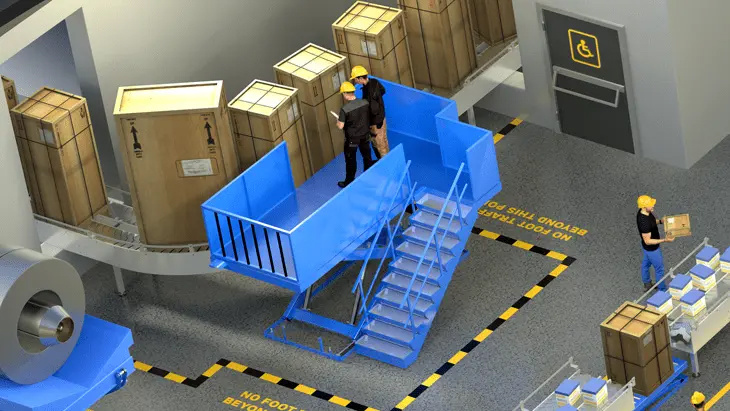 We are one of the few suppliers with such expertise, making us the natural choice for OEMs, integrators and any company needing ergonomic workplace equipment. We offer:
Innovative solutions
Flexible customization
Reliable material flows

Safe operation to comply with regulations
Our working platforms include single- and twin-scissor tables and high-lift models. They are available fixed or mobile (known as movable aerial working platforms, MEWP). Our MEWPs are further divided into manually propelled (on wheels) and self-propelled (on rails) models.
Our base models are only the beginning, however. Our customizing service will also provide the bespoke solution that is essential for your operation. Using our expertise and experience in applications, design, and construction, you can be confident that our solution will meet your needs.
We have some of the biggest platforms on the market, giving your operators better access and mobility, as well as more space for tools and other equipment. Your operators make fewer movements, saving time and costs and improving safety.
Meet regulatory requirements
Safety is vital, not least because operators travel on these platforms. Our products comply with all applicable regulations, including EN1570-1, EN 280 (mobile) or Machinery Directive 2006/42/EC depending on the application.
Your guarantee of uninterrupted operation
When you buy our working platforms, you benefit from our responsive local presence, which ensures quick and trouble-free installation and service. And above all, you can be confident your solution comes from an industry leader whose experience and expertise are your guarantee of safe, smooth and uninterrupted operation. We back all this with our comprehensive 1-year warranty and a supportive service contract offer.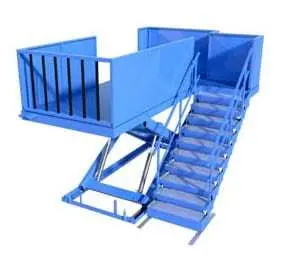 Product profile
Stationary
Capacity: 200-1000 kg
Lift height: 500-3000 mm
Platform LxW: 1350×1000-11000×4000 mm
Manual, wheeled
Capacity: 200-1000 kg
Lift height: 2000-7000 mm
Platform LxW: 1350×1000-3000×2000 mm
Self-propelled, rails
Capacity: 200-1000 kg
Lift height: 2000-7000 mm
Platform LxW:1350×1000-11000×4000 mm
Accessories
Customized railings/gates with unique features such as photocell-based automated control
Chain mesh protects against mechanical damage and reduces the risk of personal injury
Bellows provide extra safety, and protection against dust, dirt and bad weather
Access stairs for quick, safe access
Anti-slip protection for operators
Synchronized scissors give all-round easy access
Pre-programmable multi-positioning streamlines workflows
Extension frames improve ergonomics and efficiency
Telescopic stabilizers handle uneven flooring
Collision protection with sensors and automatic stops
Load cells reduce downtime by eliminating overloads
Self-closing telescopic rails speed repositioning of equipment
Fall lines protect operators and equipment
Additional services
Training helps existing and new employees achieve top performance at minimum cost
Technical support finds the right solution for you, freeing up your resources
Third-party approvals are available on demand to assure quality and safety
Contacts
John Cai
Country Manager-Greater China
---
Related Information
---
Working Platforms
Single Scissor Tables,High Lift Scissor Tables,Twin Scissor Tables,
All product categories
---
Here is the placeholder text
Working Platforms
What is the typical capacity of a working platform?
Capacities for our working platforms go up to 1 tonne, with lift heights up to 7000 mm on platforms up to 3000×2000 mm.
How can I save time on repetitive re-positioning?
Our working platforms offer pre-programmed automated positioning as an accessory. Push-button control enforces high-quality workflows that maximize productivity. Many other accessories are available. Our experts can advise.
Where should I use fixed working platforms? And movable ones?
Fixed working platforms are ideal for extended use in a specific location. Movable aerial working platforms (MEWPs) provide greater flexibility, either across a fixed range of locations (self-propelled on rails) or wholly unrestricted (manually propelled on wheels).
How do I get a quotation for a working platform?
You can use our straightforward online quotation request form, or simply contact your local representative.