Safety - Reliability - Flexibility
Line Loading/Unloading
FAST, SAFE LINE LOADING/UNLOADING
One of the most critical activities in a factory, distribution center, or warehouse is loading/unloading to/from the distribution chain. The positioning solution must therefore be quick, efficient and reliable. It simply must not fail, because operations must not be interrupted. The solution must also be safe, and offer the kind of truck-free operation that is increasingly preferred to minimize risks and improve redundancy.
We are among the very few manufacturers able to supply the high-end, high-stroke solutions you need to withstand extremely heavy use. Our UXB models are in fact the strongest available. Our loading/unloading solutions offer OEMs and integrators:
Reliability for 100% availability at a key point in the supply chain
Speed in adapting to changing demands, pallet sizes, etc.
Safety by minimizing the risk of falling goods, forklift accidents, squeezing, trapping, falls, collisions, etc.
We build our innovative conveyor system to provide stability while safely carrying heavy loads. Complementing a very productive top speed of 12 m/s even at maximum load, variable speed is available with our Movimot accessory. Wear strips, solid flat steel scissors and high-quality hydraulics ensure long-term peak performance.
Our low-build design simplifies installation because you do not need a pit. In use, this design frees up space and reduces dangerous congestion. Easy access through a protective hatch makes service and maintenance of the electrical and hydraulic systems quick and efficient, saving time and running costs.
Meet regulatory requirements
Safety is vital at this key point in the chain. Our products comply with all applicable regulations, including EN1570-1, ensuring proper protection for your operators and those working near them.
Your guarantee of uninterrupted operation
When you buy our line loaders/unloaders, you benefit from our responsive local presence, which ensures quick and trouble-free installation and service. And above all, you can be confident your solution comes from an industry leader whose experience and expertise are your guarantee of safe, smooth and uninterrupted operation. We back all this with our comprehensive 1-year warranty and a supportive service contract offer.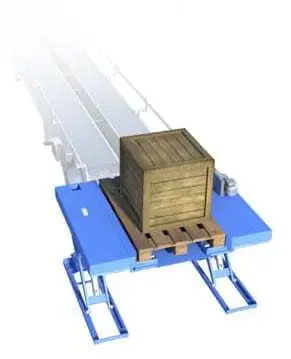 Product profile
Weight capacity: 500-1600 kg
Lifting height: 85-1000 mm
Platform LxW: Standardized for whole or half standard EUpallets (1200×800, 600×800, and 1200×1000 mm) at line heights up to 1000 mm
Accessories
Safety barrier Safety barrier
Infeeder safely boosts productivity
High-efficiency oil cooler enables reliable heavy-duty operation
Positioning sensors detect faults automatically and improve safety
Frequency converter delivers smooth transportation across the range of conveyor speeds
Additional services
Training helps existing and new employees achieve top performance at minimum cost
Technical support finds the right solution for you, freeing up your resources
Installation directly to your line by a knowledgeable and experienced partner
Third-party approvals are available on demand to assure quality and safety
Contacts
John Cai
Country Manager-Greater China
---
Related Information
---
Line Loading/Unloading
Line Loading/Unloading,
All product categories
---
Here is the placeholder text
Line Loading/Unloading
Are your line loading/unloading solutions suitable for handling heavy pallets?
Yes, they are standardized for whole or half standard EU pallets, and lift up to 1600 kg by up to 1000 mm.
My line area is already busy – do you have a solution that saves space?
Our low-build design does not require a pit, freeing up space. Access for maintenance is easy too, which avoids congestion.
Can I protect these solutions against collisions with trucks, etc.?
We offer optional safety barriers that withstand even heavy collisions. They come from our wide range of accessories. Our experts can advise.
How do I get a quotation for a line loading/unloading solution?
You can use our straightforward online quotation request form, or simply contact your local representative.